By Jacqueline Guthart, DVI Intern
Jacksonville Magazine recently released a list of 95 Places We Love about Jax. Although their list spanned over all the 875 square miles of the Bold New City of the South, we found 13 places that were unique to the heart of #DTJax. For all you natives of Jacksonville, there are some places in DTJax that we hold near and dear to our hearts that give Jacksonville a flavor like no other.

It's rumored that no one has been seen going in or out of the coffee plant. However, someone has to be working there because if you're in the area, you can't help but smell the aroma of delicious coffee brewing from the Maxwell Coffee House.
Dive into DTJax's prohibition era! Jacksonville was the place to be during the Jazz Age and The Volstead is sure to bring the past back to life. One of the best parts of The Volstead is their Jam cocktail. It's a whiskey-based drink where "blueberries, lemon and brown sugar balance out the basil thrown in the end for good measure." We can't wait to try it!
People in DTJax seem to like beer. A lot. It's home to many local microbreweries and to add to its ever growing list, both Bold City Brewery and Intuition Ale Works will be opening new locations in DTJax soon! We have so many breweries that visitors like to do the Jacksonville Ale Trail! Make sure to grab the Jacksonville Ale Trail passport before embarking on your next beer adventure!
Sweet Pete's is every child's dream! Walk into this candy factory and you will feel as if you are in Willy Wonka's Chocolate Factory. Located in a historical, plantation-style house in the center of DTJax, you'll enter a magical world of lollipops, ice cream, licorice, traditional soda pop and more. Visitors can see candy makers in live action and take classes to learn just how Pete makes such wonderful delicacies!
If you grew up in Jacksonville, there is a 99% chance you had a field trip to the Jacksonville Symphony. Inspired by Wiener Musikverein in Austria, this European style symphony hall is simply breathtaking! Jacoby Symphony Hall is shaped like a shoebox to give it superior sound and is designed by KBJ Architects; Rothman, Rothman & Heineman architects and internationally acclaimed acousticians Kirkegaard & Associates.
Most visitors to DTJax are perplexed by Jacksonville's obsession with chocolate covered popcorn. If you find a visitor that thinks it sounds gross, ask them to try it, because it is amazing. Peterbrooke Chocolatier is famous for its chocolate covered popcorn and it's been sort of a  Jacksonville "thing" for decades. Although stores are popping up in other cities on a national level, we are proud that the growing trend of chocolate covered popcorn started here.
Described as an "inflatable octopus who wears a scarf," Squid Vicious is DTJax's favorite soccer mascot! Soccer has been becoming increasingly popular in the United States and DTJax is proud to be a part of the hype. Come out to support the Jacksonville Armada with friends and family and get your tickets today!
DTJax is simply beautiful at night. Come when it gets dark and you will get a big city feel from all the bright lights and tall buildings. The lights on the bridges give the city an extra twinkle that makes for the perfect photo op.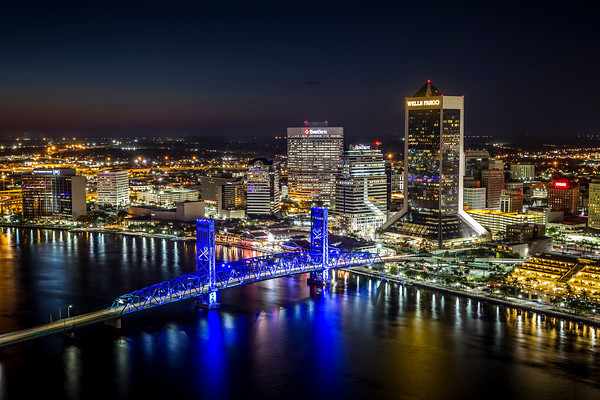 If you're in the mood for Thai food, DTJax has just the place for you! Indochine is sure to satisfy your taste buds for South Asian food. The spices at Indochine couldn't get any more hot, and we suggest ordering a glass of water before you decide to take your spice level up a notch.
If you live in Jacksonville, you've probably gone to one of the Jacksonville Shark's themed games once or twice. Whether the theme is redneck or Star Wars, it will make your experience watching an indoor football game that much better.
"Since the early '30s, the 'World's Largest Outdoor Cocktail Party' has been one of the biggest events," in DTJax. Come out during the Florida vs. Georgia game and find yourself in a RV City, surrounded by miles of die hard Gator and Bulldog fans. The game puts tailgating to a whole new level. It's a party you do not want to miss!
It's Thirsty Thursday every Thursday at the Jacksonville Suns' baseball grounds. Enjoy a Suns game with $1 beers, listen to great tunes and have a ball! "It's so much fun you might forget there's a baseball game going on." Whether it be acrobats, a firework show, giveaways, or a themed night, the Jacksonville Suns FUNdamentally Promotions are sure to make your experience FUNdamentally different!
The best place to watch the Jacksonville Jaguars may be in their pools. The Everbank Field's swimming pools are high up in the stands, and you can cool off in the heat as you watch your favorite players tackle each other from below.
DTJax has a little bit of everything. For all you natives, we're sure you're feeling a tad nostalgic as you read this list. Come to DTJax for an experience you won't forget!
For a full directory of all the cool places DTJax offers, visit our website or download our free DTJax app today! Available on the Apple Store or Google Play store.