Jacksonville Riverwalk Cleanup
Jacksonville Riverwalk Cleanup
October 10, 2020 @ 8:00 am - 10:00 am
About
Please join us on Saturday, October 10th from 8-10 AM for the Jacksonville Riverwalk Cleanup.
The event's goal is to beautify Jacksonville's North and Southbank Riverwalk's as well as neighboring parks, neighborhoods and streets. In a community effort between 904 Happy Hour, Downtown Vision, The Downtown Investment Authority, City of Jacksonville & Downtown Dwellers, organizers are seeking the assistance of the community to volunteer and spend an hour or two of their Saturday morning to help do their part to clean up our urban core.
Three designated locations along the Riverwalk will be set up for supplies including tents on the lawn at the former Landing site on the Northbank Riverwalk, behind Riverplace Tower & Village Bread on the Southbank Riverwalk and in Brooklyn at Gefen Park. Volunteers will be provided gloves, trash bags, hand sanitizer, water, trash pickers and more. In addition, Village Bread will be offering all volunteers a free cup of coffee, Cowford Chophouse will be giving a $100 gift card to one lucky volunteer, and there will be other prizes for people who find the most trash.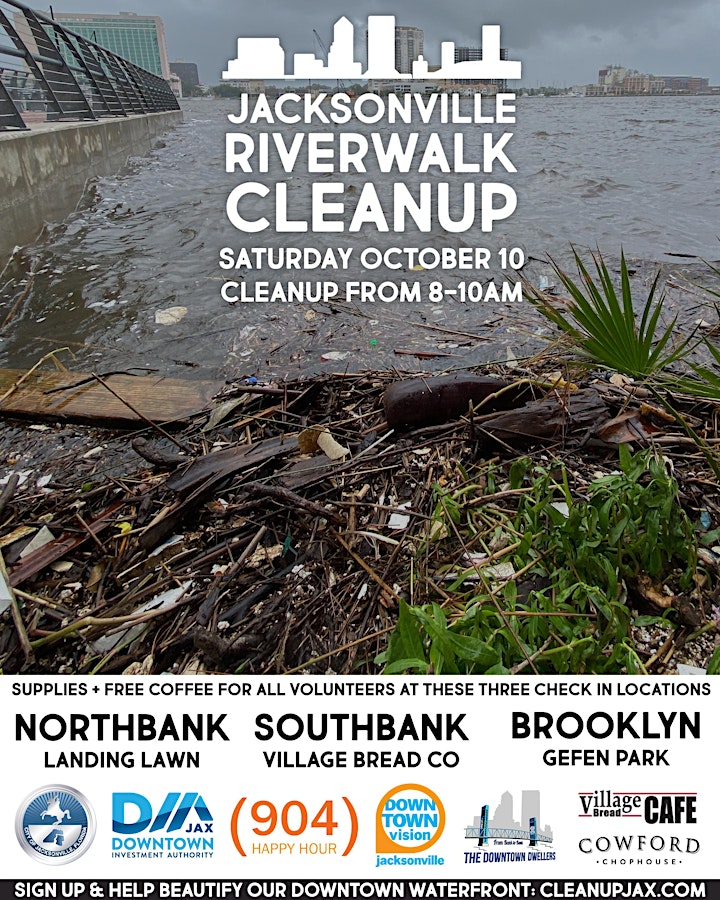 In past years, 904 Happy Hour has done several clean ups at Jacksonville Beach including the removal of over 100,000 cigarette butts and proper disposal of over 200 pounds of litter. "We are so thankful to have such strong support from our community in supporting our events, nonprofit, and local business" said Charles Wagoner, Founder of 904 Happy Hour. "Please consider joining us for a fun morning and assist us in beautifying and preserving one of our cities most valuable assets."
"Any great Downtown needs a community supporting it. This event is a great partnership with City of Jax, DIA, Downtown residents and stakeholders." Mentioned Downtown Vision CEO Jake Gordon. "This should be a great time coming together to beautify the treasured asset that is our downtown Riverwalk." There are multiple ways participation will benefit Downtown. Volunteer hours will be recorded and counted towards fulfillment of the "match" requirement for a City of Jacksonville grant to support a new mural and future public art projects along the Downtown Riverwalk.
If you, friends, coworkers or anyone you know are interested in helping, please sign up so we have a headcount of how many people are coming. Please remember to bring a mask and socially distance. We highly recommend wearing closed toed shoes and bringing sunscreen, sunglasses, and making time to explore for an hour or two following the cleanup.
Only events occurring within Downtown Jacksonville will be accepted.