The 5 & Dime LIVE! – BROADWAY BOUND
The 5 & Dime LIVE! – BROADWAY BOUND
January 24, 2020 @ 8:00 pm - 10:30 pm
About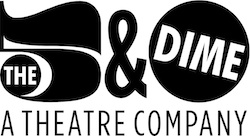 presents
The 5 & Dime LIVE! 
BROADWAY BOUND
Friday, January 24 at 8pm
Saturday, January 25 at 8pm
Sunday, January 26 at 2pm
The 5 & Dime
112 East Adams Street
in Downtown Jacksonville
DIRECTIONS

Ticket are $30 and include all taxes and fees
Duval County: land of football, cubicles, … and culture? Northeast Florida certainly gets its share of flak for being an incubator of mediocrity, but buried amongst those strip malls and town centers are some seriously impressive emerging artists. Aided by our world-renowned educational institutions and an army of tireless educators, the next generation of musical theatre superstars are being molded right under our very noses. Join The 5 & Dime as we celebrate these future Broadway stunners in an evening of cabaret dedicated solely to them – The Broadway Bound!
PARKING
Ample free parking is available within a short walking distance of the theatre. Street parking at meters is free during production hours. A pay lot is located directly adjacent to the theatre on Adams.
For more information about downtown parking, visit Downtown Vision's Parking Information page HERE.
For more information visit http://www.The5andDime.org.
Only events occurring within Downtown Jacksonville will be accepted.